Pergolas are a great way to highlight a particular zone and make it distinguishable from the rest of your backyard, patio, deck or customer area. They provide protection from weather elements, add functionality and beautify otherwise unusable space.
People traditionally used wood as a raw material for pergola structures and vines to grow around it to provide some shade for the space beneath. Wood is timeless and will always find a place in the interior and exterior design. However, most modern shading solutions incorporate strong metal pergola frames and beautiful retractable canopies.
Definition and characteristics
Pergolas are beautiful outdoor structures you can attach to a building or house to cover an adjacent area or leave freestanding in your backyard. They are a fantastic way to highlight an area and add functionality by protecting people and furniture from the harsh sun, damaging UV rays, glare, heat and light or heavy rain. 
While traditional pergolas involved wooden beams and posts, modern solutions incorporate metals like aluminum and steel. Customizable and functional retractable fabric canopies have replaced the old way of planting climbing plants for shade.
Outdoor metal pergolas complement any design and add individuality to residential buildings or commercial brands. Although some people prefer wood, metal structures are sturdier, require less maintenance, and can resemble the rustic wooden look if needed.
Production materials
Raw materials for metal outdoor pergola frames are usually aluminum and steel. They are both solid materials. However, aluminum is significantly more lightweight than steel. It might be more expensive to invest in, but its durability pays off in the long run. 
High-grade aluminum is virtually maintenance-free. It can be powder-coated in various RAL colors, and you don't have to worry about covering minor scratches with paint. On the other hand, a steel-framed pergola can also be powder coated but will not resist peeling and chipping as much as aluminum. 
Solid steel pergolas tend to get hotter than aluminum models under the blazing summer sun. On the other hand, it can withstand heavy loads. Suppose you have to deal with harsh winter conditions, lots of heavy snow or big storms. 
In that case, it might be better to choose a steel pergola with a retractable canopy. Aluminum is also strong, but you will need significantly larger posts and beams for the same loads.
Depending on what you need as protection qualities of the retractable canopy shades, you can choose water-resistant or waterproof fabrics. 
It's essential to invest in high-quality European fabrics because they last longer, have great UV-protection qualities and resist fading. The best products are also resistant to mold and mildew and can handle light to heavy rain depending on the fabric.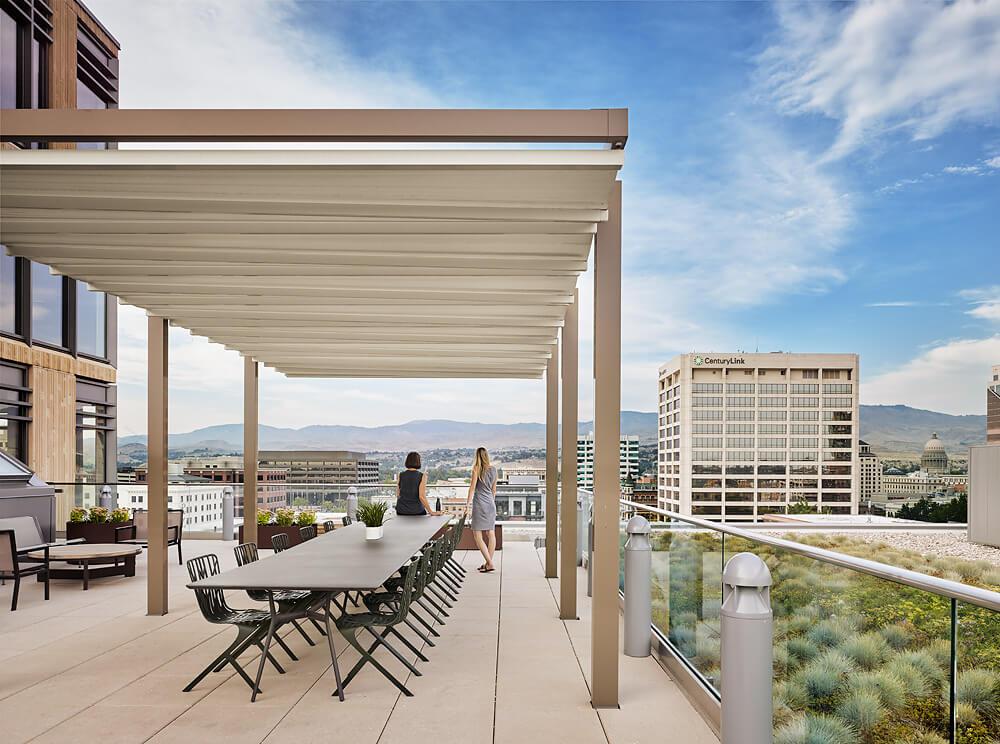 Benefits and advantages
A metal pergola with a canopy has countless benefits and advantages. However, I will highlight only a few of them.
First and most importantly, it adds functional and stylish outdoor space to your property. You can use it for family get-togethers, BBQs, as a reading zone, to make customers more comfortable and much more. 
Metal pergola covers offer a great shading solution on hot summer days. You can still enjoy your outdoor space, even on rainy days. In addition, they add a level of privacy (that can further increase if combined with additional retractable drop screens) that makes everyone feel comfortable, protect from sideways driving rain, and all types of bugs and insects.
You can attach your aluminum or steel pergola to your house or other building or install it freestanding, highlighting outdoor areas of your preference. The stylish pergola metal frames guarantee a robust support system that will last indefinitely. 
Depending on the chosen raw material for the fabric, you can choose from various colors and styles to match your preferences. Moreover, you can choose from hundreds of colors, stripes, patterns, and textures for your retractable canopy to coordinate with the building or outdoor furniture tone. You can enjoy waterproof roofs that enable you to use your metal pergola even in heavy rain, something not possible with a folding lateral arm retractable awning. 
Who are they appropriate for?
An aluminum or steel pergola with canopy is appropriate for :
residential and commercial properties 

homeowners and businesses 

houses with backyard patios 

restaurant and hotel decks 

poolside areas and much more 

hot tubs and spas
These shading systems are perfect for people who want stable, secure, yet diverse outdoor space solutions. They are also appropriate for spring, summer, autumn, and winter.
Why Retractable Awnings Reviews
By visiting Retractable Awnings Reviews, you can find all the necessary information for your retractable awning and retractable pergola purchase. 
I provide educational content regarding retractable products offered online, including but not limited to:
Retractable awnings for patios and decks

Retractable roof pergolas

Retractable drop screens and side screens

Retractable awning and pergola production materials

Retractable covers and pergola installation types

Retractable awning and pergola manufacturers and vendors
Another thing I focus on is including unbiased reviews from real customers concerning their purchased product. That allows you to make an adequate comparison and an informed buying decision.
FAQ
How to find a Metal Pergola with Retractable Canopy company?
By visiting Retractable Awning Reviews, you are one step closer to finding the best company for a metal pergola with a retractable canopy. This website will help you find and compare products to make the right purchase.
How does Retractable Awnings Reviews work? 
Retractable Awning Reviews provides the most accurate reviews regarding retractable awnings and pergolas on the internet. Sponsored or discreditable content is not published, neither are company promotional materials.
Why should I choose you to find my Metal Pergola with Retractable Canopy company?
My experience of 40 years in the retractable awning and retractable pergola manufacturing, distribution, and installation business gives me the knowledge and experience to provide information to professionals and the public at large on the advantages and disadvantages of the products currently offered and promoted in the awning and pergola industry.
Client reviews and adequate knowledge are more important for the end customer than just a good marketing campaign. That is why Retractable Awning Reviews is a source of objective, trustworthy reviews and practical information.
What if I'm not satisfied with the services?
If you are not satisfied with the product or services or would like to express an opinion, don't hesitate to contact me describing the issue at hand. I will further cooperate and assist you.
How to contact you?
I included a special section on my website, where you can contact me via a Contact Form. Feel free to leave any feedback you might have or provide a new review for the website. I guarantee I will come back to you as soon as possible.